Mystery scat helps find 'grumpy' wild cat
Grumpy Cat – real name Tardar Sauce – is a domestic cat that became an international internet meme star in the 2010s. She was known for her grumpy expression.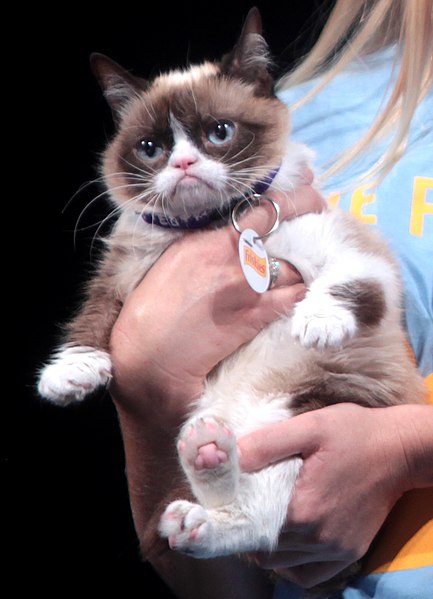 Manul: the wild grumpy cat
It turns out that Grumpy Cat has a look-alike – a wild cat called a manul (also called a Pallas's cat). The manul is about the size of a domesticated cat, but it appears much larger because of a built-in parka.
Where does the manul live?
Manuls live in mountain ranges across Asia. They are adapted for living in snowy environments at high elevations. Manuls have the densest fur of any cat. Their fluffy coat helps keep them warm.
Manuls are often described as looking grumpy. What do you think?
Manuls on Sagarmatha (Mount Everest)
Mount Everest is Earth's tallest mountain above sea level. In Nepal the mountain is known as Sagarmatha.
Sagarmatha is in the Himalayan mountain range. Manuls have been photographed in other parts of the Himalayas but never in the Sagarmatha region, even though many people move through this area to visit or climb the mountain.
The mystery scat
In 2019 a team of scientists found some scat (animal poop) on Sagarmatha. The owner of the scat was a mystery. Tracie Seimon, one of the scientists, explains the situation: "When we found a scat, we didn't know which animal it belonged to. We just collected the samples and brought them to our lab."
Once the samples were in the lab, the scientists extracted DNA from the scat. They then compared the DNA found in the scat to a database of known species. They found that the scat belonged to a manul! This proved that these wild cats live on Sagarmatha, even though no one has yet seen or photographed them there.
Not only could the scientists determine that the scat came from a manul, but they could also determine what the cat was eating. The team found evidence that the owner of the scat ate the rabbit-like pika and the mountain weasel.
Conservationists will develop conservation plans for the manuls on Sagarmatha in order to help the real grumpy cats survive long into the future.
*Tracie Seimon, the scientist quoted in the story, is from the Wildlife Conservation Society
This story was adapted for Mongabay Kids by David Brown. It is based on an article by Abhaya Raj Joshi,  published on Mongabay.com