Chameleons are famous for their ability to change color and blend in with their surroundings. In the East African country of Tanzania, six new species of pygmy chameleon have come out of hiding! That's because scientists have described these new species for the first time.
Pygmy chameleons are about the size of a human thumb. The newly described species live in the Eastern Arc Mountains. The Eastern Arc Mountains are forest-capped mountains that form an inland archipelago (group of islands), stretching 900 kilometers (560 miles) from the northern tip of Lake Tanganyika in to the Taita Hills in southeastern Kenya. The Eastern Arc Mountains are the green areas in the map below:
The mountain caps are similar to islands. Except instead of land surrounded by water, the mountain forests are surrounded by grasslands.
Most of the newly described pygmy chameleons are endemic, or unique, to individual mountain forests. Some of the chameleon species live only in a small patch of forest on a single mountain. Michele Menegon is one of the scientists who described the chameleon species. He explains:
If you go to one side of the mountain — at a certain elevation — you have a species. You move to another side of the mountain, at another elevation, you have another species.

Michele Menegon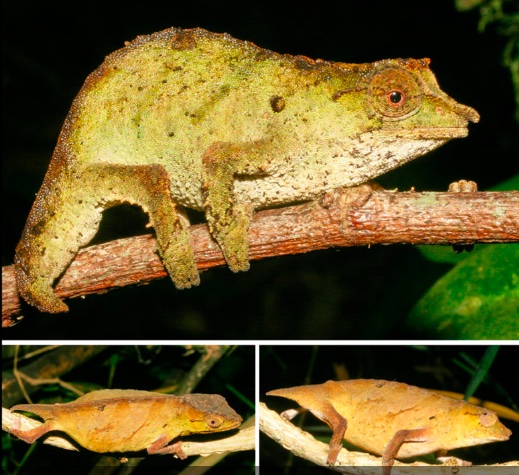 Shortly after the scientific paper describing the new chameleon species was published, Menegon discovered what is likely to be yet another new species. He found it while visiting the forests on the Nguru Mountains in Tanzania's Morogoro Region. This chameleon was small and spiny with long horns above its eyes. "When I saw it, I thought, 'OK, this is different. We start again,'" Menegon said.
The Eastern Arc Mountains have many endemic species in addition to the pygmy chameleons. At least 800 plants and at least 96 vertebrates — including birds, reptiles, amphibians, and mammals — live there and nowhere else.
The forests of the Eastern Arc Mountain are threatened by farmers and herders who clear them to grow crops and raise livestock. Most of the six newly described chameleons are already at risk of extinction due to habitat loss, according to researchers.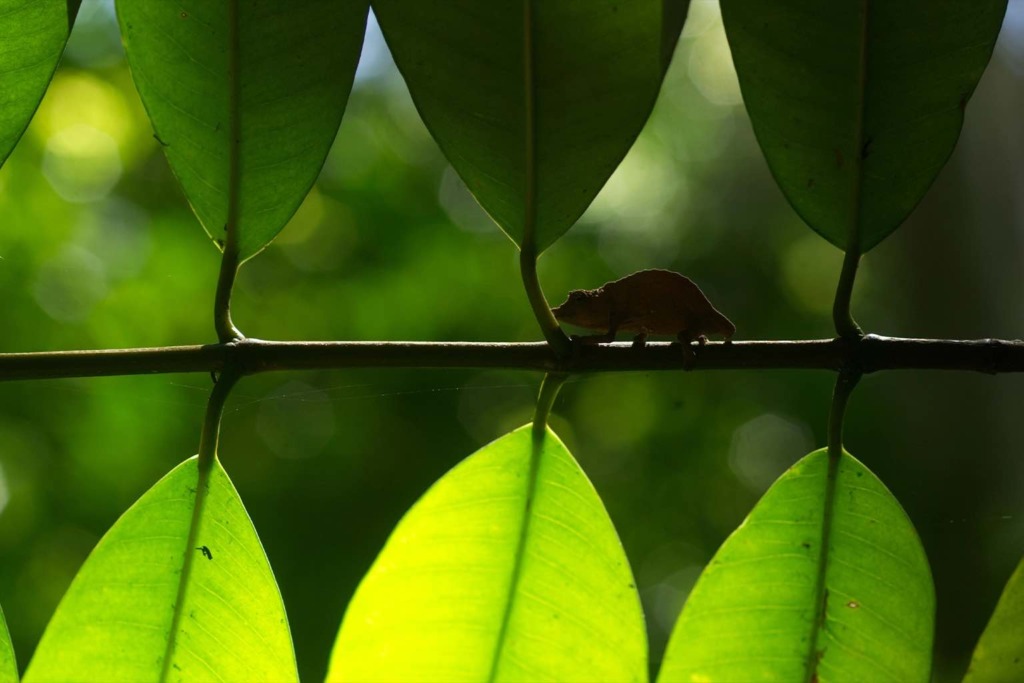 The deforestation is caused by demand for agricultural land. Tanzania's human population grew to more than 63 million in 2021 from around 35 million in 2002. People need land on which to grow their food crops like bananas, cassava, and maize.
The PAMS Foundation is a conservation group in Tanzania. Michele Menegon is one of the group's leaders. The PAMS Foundation has now started a project working with 180 farmers to replant 300,000 native tree seedlings on the western flanks of the Nguru mountains. The goal of the project is to restore habitat for the pygmy chameleons and other unique plants and animals in the Eastern Arc Mountains.
This story has been adapted for Mongabay Kids. It is based on an article by Ryan Truscott, published on Mongabay.com: