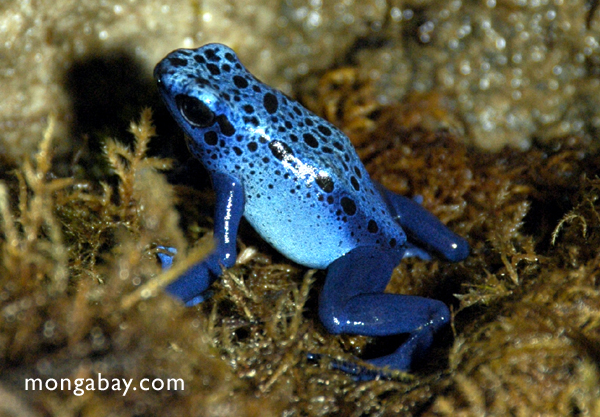 Blue poison dart frog.



Blue poison dart frog

---
The blue poison dart frog is a colorful frog found in the rainforests of Suriname, a country located in the northeastern part of South America. The blue poison dart frog uses its colors to warn predators of its toxic skin. If an animal eats the blue poison dart frog it will become very sick.

Blue poison dart frogs are poisonous due to their diet. They eat ants and other small insects that have toxins chemicals in their bodies. The frogs can eat these insects without getting sick.





The Mongabay Kids site (kids.mongabay.com) aims to help children learn about rainforests and the environment. This site is still under development and I am working to add additional content as time permits. If you have comments or are interested in submitting educational content for the site, please feel free to contact me.

The site is available in many different languages, including Portuguese, Chinese, French, Spanish, Japanese, and German.