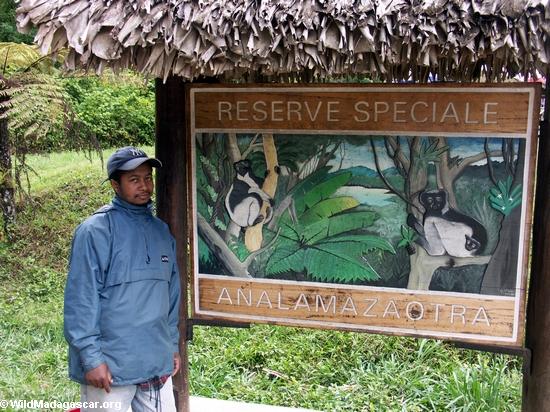 Zaka, a forest guide in Madagascar.
Zaka earns a living by showing tourists the forest.



ENCOURAGE PEOPLE TO LIVE IN WAYS THAT DO NOT HURT THE ENVIRONMENT

---
A key part of saving rainforests and the environment is encouraging all people to live in ways that do less harm to the world around them. Driving less, using fuel efficient cars and public transport, conserving water, recycling, and turning off lights when you don't need them are all ways that you and your family can reduce your impact on the environment.

What can I do to help the environment?

In rainforest countries many scientists and organizations are working to help local people live in ways that cause less damage to the environment. Some people call this idea "sustainable development." Sustainable development has a goal of improving the lives of people while at the same time protecting the environment. Without improving the livelihoods of people living in and around rainforests, it is very difficult to protect parks and wildlife. Conservation must be in the interest of local people to make parks work.



By

Rhett Butler

Date published: June 24, 2004 | Last updated: August 24, 2013

All about Rainforests
Sponsor(s)
FAQs
May I use graphics from mongabay.com for my projects? Yes, you may provided that you don't remove the mongabay label from the images. You may use information from the site for class projects and can cite kids.mongabay.com as the source.
Is this web site credible? Mongabay is the world's most popular source for information on tropical forests. The site is highly acclaimed by a number of the world's leading tropical scientists and is run independently, meaning it is has no affiliation with advocacy groups or outside corporations. Rhett Butler, who founded Mongabay in 1999 and runs the site today, has published several scientific papers.
Can I interview the founder of mongabay.com for my school project? Unfortunately due to the large number of requests and the need to work on the main Mongabay site, Rhett is not available for interviews. However he has answered some common questions on the Rainforest Interview page.
Do you have any games or activities? Currently there are a few on the resources page. There may be more in the future.
Who are some scientists who study rainforests? Take a look at the Interviews with rainforest experts page.
How can I help save rainforests? Some ideas are listed on the Rainforest Solutions page.
Where can I learn more about rainforests? There is a wealth of information at the main rainforest site