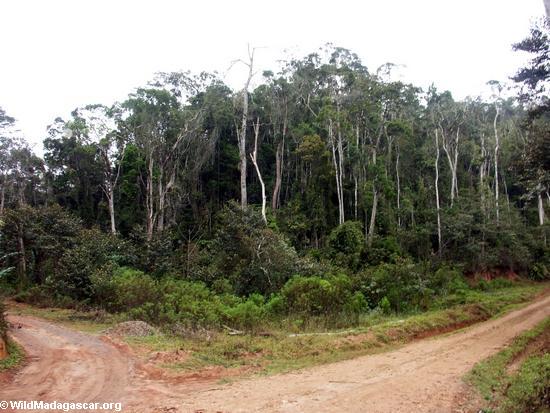 A road in the rainforest of Madagascar.



ROAD CONSTRUCTION IN THE RAINFOREST

---
Road and highway construction in the rainforest opens up large areas to deforestation. In Brazil, the Trans-Amazonian highway resulted in the destruction of huge areas of forest by colonists, loggers, and land speculators. In Africa, logging roads give access to poachers who hunt endangered wildlife as "bushmeat" or meat sold to city dwellers. Some of the poached wildlife—especially rhinos, pangolin, and tigers—goes to Asia where it is used for traditional Chinese medicine.

Therefore it is very important that when new roads are built in rainforest areas, they are carefully planned to minimize the environmental impacts. One way to reduce deforestation from road construction is to create protected areas on either side of the road.







By

Rhett Butler

Date published: June 24, 2004 | Last updated: August 24, 2013

All about Rainforests
Sponsor(s)
FAQs
May I use graphics from mongabay.com for my projects? Yes, you may provided that you don't remove the mongabay label from the images. You may use information from the site for class projects and can cite kids.mongabay.com as the source.
Is this web site credible? Mongabay is the world's most popular source for information on tropical forests. The site is highly acclaimed by a number of the world's leading tropical scientists and is run independently, meaning it is has no affiliation with advocacy groups or outside corporations. Rhett Butler, who founded Mongabay in 1999 and runs the site today, has published several scientific papers.
Can I interview the founder of mongabay.com for my school project? Unfortunately due to the large number of requests and the need to work on the main Mongabay site, Rhett is not available for interviews. However he has answered some common questions on the Rainforest Interview page.
Do you have any games or activities? Currently there are a few on the resources page. There may be more in the future.
Who are some scientists who study rainforests? Take a look at the Interviews with rainforest experts page.
How can I help save rainforests? Some ideas are listed on the Rainforest Solutions page.
Where can I learn more about rainforests? There is a wealth of information at the main rainforest site