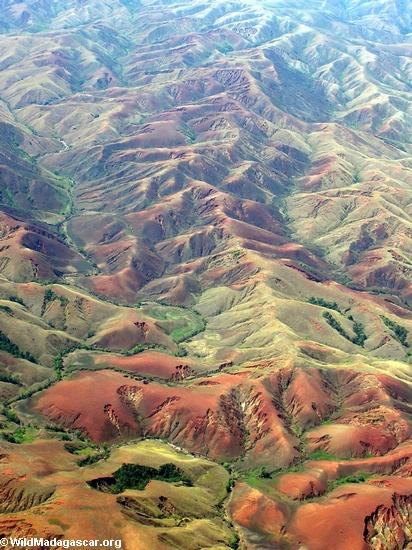 Deforestation in Madagascar.
All the forest is gone.



PICTURES: Deforestation

WHY ARE RAINFORESTS BEING DESTROYED?

---
Every year an area of rainforest the size of New Jersey is cut down and destroyed. The plants and animals that used to live in these forests either die or must find a new forest to call their home. Why are rainforests being destroyed?

Humans are the main cause of rainforest destruction. We are cutting down rainforests for many reasons, including:
wood for both timber and making fires;
agriculture for both small and large farms;
land for poor farmers who don't have anywhere else to live;
grazing land for cattle;
pulp for making paper;
road construction; and
extraction of minerals and energy.
Rainforests are also threatened by climate change **, which is contributing to droughts in parts of the Amazon and Southeast Asia. Drought causes die-offs of trees and dries out leaf litter, increasing the risk of forest fires, which are often set by land developers, ranchers, plantation owners, and loggers.

In 2005 and 2010 the Amazon experienced the worst droughts ever recorded. Rivers dried up, isolating communities, and millions of acres burned. The smoke caused widespread health problems, interfered with transportation, and blocked the formation of rain clouds, while the burning contributed huge amounts of carbon dioxide to the atmosphere, worsening the effects of climate change. Meanwhile, Indonesia has experienced several severe droughts in recent decades. The worst occurred in 1982-1983 and 1997-1998 when millions of acres of forest burned.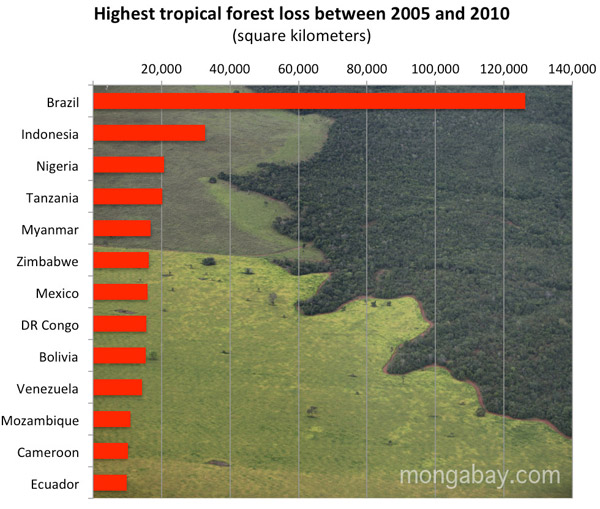 ** The vast majority of scientists believe that human activities are contributing to climate change.
By

Rhett Butler

Date published: June 24, 2004 | Last updated: August 24, 2013

All about Rainforests
Sponsor(s)
FAQs
May I use graphics from mongabay.com for my projects? Yes, you may provided that you don't remove the mongabay label from the images. You may use information from the site for class projects and can cite kids.mongabay.com as the source.
Is this web site credible? Mongabay is the world's most popular source for information on tropical forests. The site is highly acclaimed by a number of the world's leading tropical scientists and is run independently, meaning it is has no affiliation with advocacy groups or outside corporations. Rhett Butler, who founded Mongabay in 1999 and runs the site today, has published several scientific papers.
Can I interview the founder of mongabay.com for my school project? Unfortunately due to the large number of requests and the need to work on the main Mongabay site, Rhett is not available for interviews. However he has answered some common questions on the Rainforest Interview page.
Do you have any games or activities? Currently there are a few on the resources page. There may be more in the future.
Who are some scientists who study rainforests? Take a look at the Interviews with rainforest experts page.
How can I help save rainforests? Some ideas are listed on the Rainforest Solutions page.
Where can I learn more about rainforests? There is a wealth of information at the main rainforest site