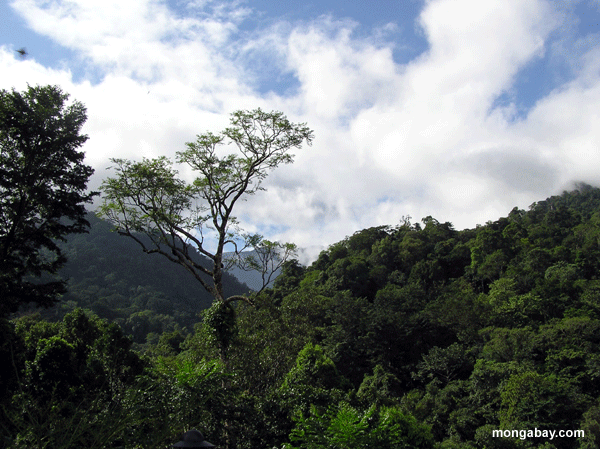 Rainforest in Honduras



WHY ARE RAINFORESTS IMPORTANT?

---
Flying over the heart of the Amazon is like flying over an ocean of green: an expanse of trees broken only by rivers. Even more amazing than their size is the role the Amazon and other rainforests around the world play in our everyday lives.

While rainforests may seem like a distant concern, these ecosystems are critically important for our well-being.

Rainforests are often called the lungs of the planet for their role in absorbing carbon dioxide, a greenhouse gas, and producing oxygen, upon which all animals depend for survival. Rainforests also stabilize climate, house incredible amounts of plants and wildlife, and produce nourishing rainfall all around the planet.



Rainforests

:
help stabilize the world's climate;
provide a home to many plants and animals;
maintain the water cycle
protect against flood, drought, and erosion;
are a source for medicines and foods;
support tribal people; and
are an interesting place to visit
By

Rhett Butler

Date published: June 24, 2004 | Last updated: August 24, 2013

All about Rainforests
Sponsor(s)
FAQs
May I use graphics from mongabay.com for my projects? Yes, you may provided that you don't remove the mongabay label from the images. You may use information from the site for class projects and can cite kids.mongabay.com as the source.
Is this web site credible? Mongabay is the world's most popular source for information on tropical forests. The site is highly acclaimed by a number of the world's leading tropical scientists and is run independently, meaning it is has no affiliation with advocacy groups or outside corporations. Rhett Butler, who founded Mongabay in 1999 and runs the site today, has published several scientific papers.
Can I interview the founder of mongabay.com for my school project? Unfortunately due to the large number of requests and the need to work on the main Mongabay site, Rhett is not available for interviews. However he has answered some common questions on the Rainforest Interview page.
Do you have any games or activities? Currently there are a few on the resources page. There may be more in the future.
Who are some scientists who study rainforests? Take a look at the Interviews with rainforest experts page.
How can I help save rainforests? Some ideas are listed on the Rainforest Solutions page.
Where can I learn more about rainforests? There is a wealth of information at the main rainforest site